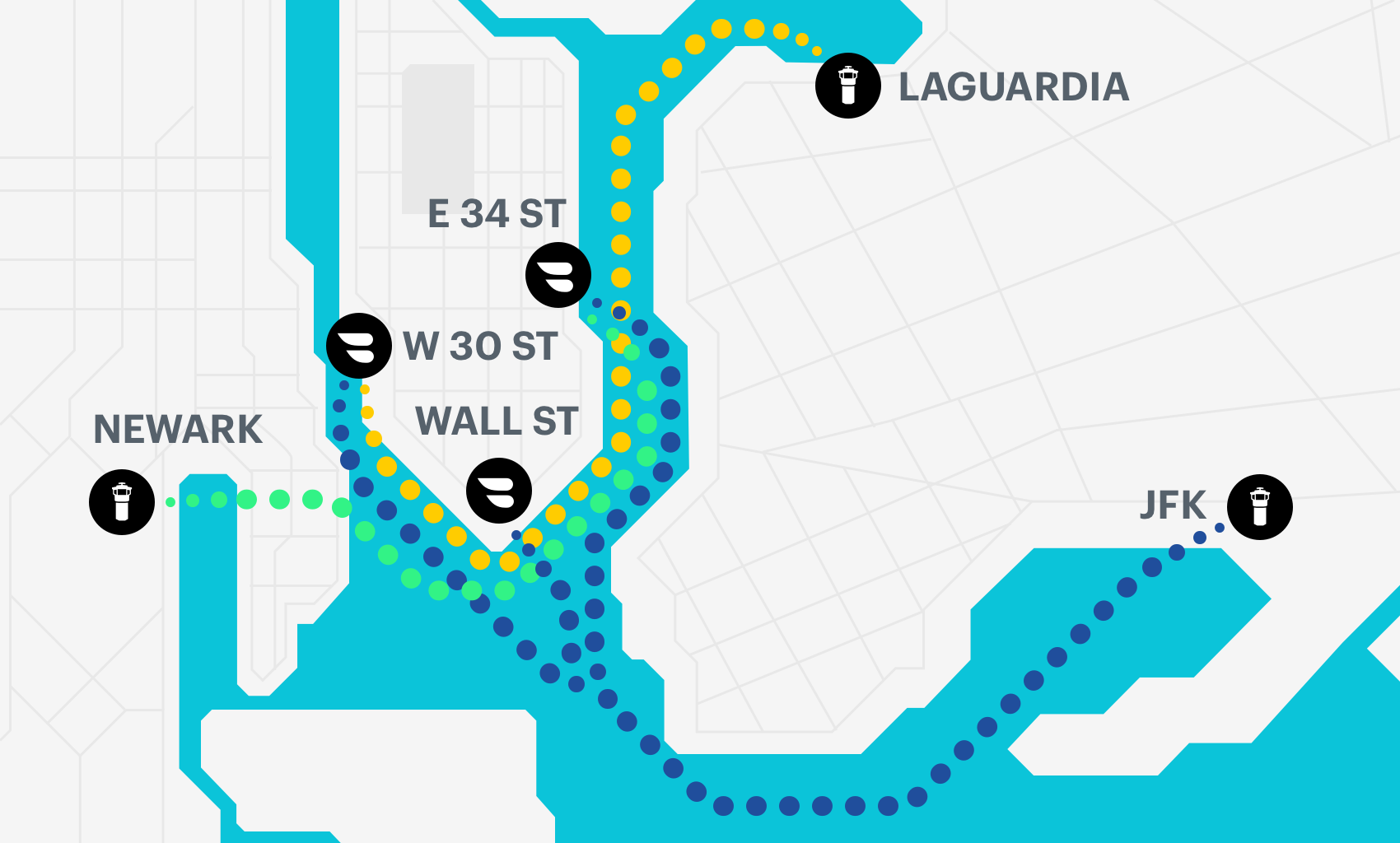 BLADE Airport
BLADE offers continuous service between all three Manhattan BLADE Lounges and JFK, Newark, and LaGuardia airports for $195/seat. Ground transportation between airport helipads and all commercial airline terminals is included.
Click Book Now below and select your desired curbside arrival time (for BLADE to the airport) or commercial flight arrival time (for BLADE from the airport) and an itinerary will be created for you.
Private charters are also available 24/7/365 between any combination of New York area private and commercial airports and heliports. Book Now
Regular by-the-seat BLADE Airport service is temporarily suspended until mid-summer 2021 due to the significant reduction in airline flight schedules. Charter and Crowdsource services remain available, including $195 seats on crowdsourced airport flights.
Arrive in 5 minutes instead of spending hours in traffic
Just $195 per seat, beating the price of app-based SUVs during rush hour
Do you fly frequently? Save with BLADE Airport Passes.
Relax in a BLADE Lounge before and after an unforgettable flight above NYC
Ground transportation included between your helicopter and connecting flight

🛫 FAQs
Manhattan to Airport–How does it work?
Airport to Manhattan–How does it work?
How much baggage can I bring?
How does Tote Taxi baggage pickup work?
What if I arrive late to my flight? What is your change policy?
Should I consider chartering my own aircraft?
What is your cancellation policy?
How close to departure can I book?
Where are BLADE lounges located?
What are the benefits of the JFK/American Airlines partnership?