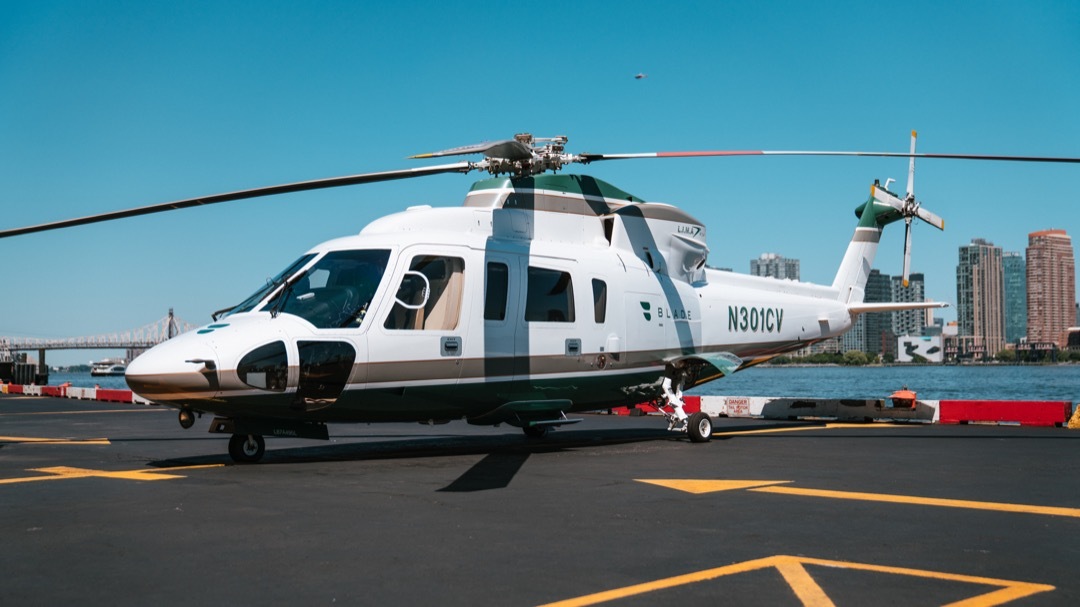 Book your next business trip with BLADE and experience the seamless end-to-end precision we're known for.
Whether you need to charter, design a corporate partnership, or get your execs to any area airport at a price that's competitive with a car service, we've got you covered.
Charter or Crowdsource
Sikorskys are the primary equipment dedicated to BLADE for Business and key helicopter destinations include Boston, Washington, D.C., Providence and Philadelphia.
Airport transfers for up to eight can be accomplished in as little as five minutes to all New York City airports, including all private airports (such as Teterboro and Westchester) where we guarantee that you will land or depart directly from the side of your awaiting or arriving private jet.
Since your helicopter flights depart directly from one of three Manhattan BLADE Lounges, travel times to key destinations are significantly reduced compared to commercial flights, the Acela railroad and private car services.
Additionally, BLADE has dedicated cabin-class rotorcraft in our other key markets including the San Francisco Bay Area and Los Angeles.


Corporate Partnerships
If you would like BLADE to be an approved travel vendor for your business so employees can travel with us regularly, we'll build a corporate agreement based on your needs. Corporate partnership options range from bulk purchasing of BLADE Airport seats to a custom agreement allowing for employees to travel with BLADE for all of their personal and professional travel.
If you're interested in learning more email [email protected].
The BLADE Difference
Since your helicopter flights depart directly from a BLADE Lounge, travel times to key destinations are significantly reduced compared to commercial flights, the Acela railroad, and private car services.
BLADE Safe SUVs are now available and ready to transport employees for daily commutes, meetings or any other travel. Learn more about Essential Ground Connect here.
Other BLADE For Business Benefits
As a BLADE for Business partner you will enjoy corporate rates on business travel as well as numerous leisure travel benefits for employees, including preferential pricing for destinations such as the Hamptons, Nantucket, Miami, Napa and more.
Planning a golf or corporate outing? BLADE's vast network of resorts and golf property relationships unlock a unique ability to fly you directly to the course or resort and land on-property.
Entertain clients, employees or yourself with an unforgettable once-in-a-lifetime event.
Accessible Fleet
BLADE has access to the most diverse fleet of aircraft, with a wide variety of helicopters, seaplanes, and other fixed wing aircraft suitable for any corporate mission. Beyond the Sikorsky S-76 C++, BLADE for Business clients also utilize the Agusta 109SP, Airbus Dauphin, Bell 427, and Bell 407. Each of these equipment types reside in the accessible fleet and many are operated exclusively on behalf of BLADE.


BLADE Lounge Network
The BLADE experience begins at one of our business friendly BLADE Lounges. With four lounges in Manhattan and one in Miami, Westchester, Nantucket and Los Angeles, you will work productively no matter where your business takes you. BLADE lounges are staffed by our friendly and helpful C/X team members who will get you checked in and serve drinks and snacks before boarding your aircraft.
Stay productive or relax after a long day of meetings, BLADE lounges are perfectly equipped for both. Our lounges are also available for corporate events, where catering and customized branding are available.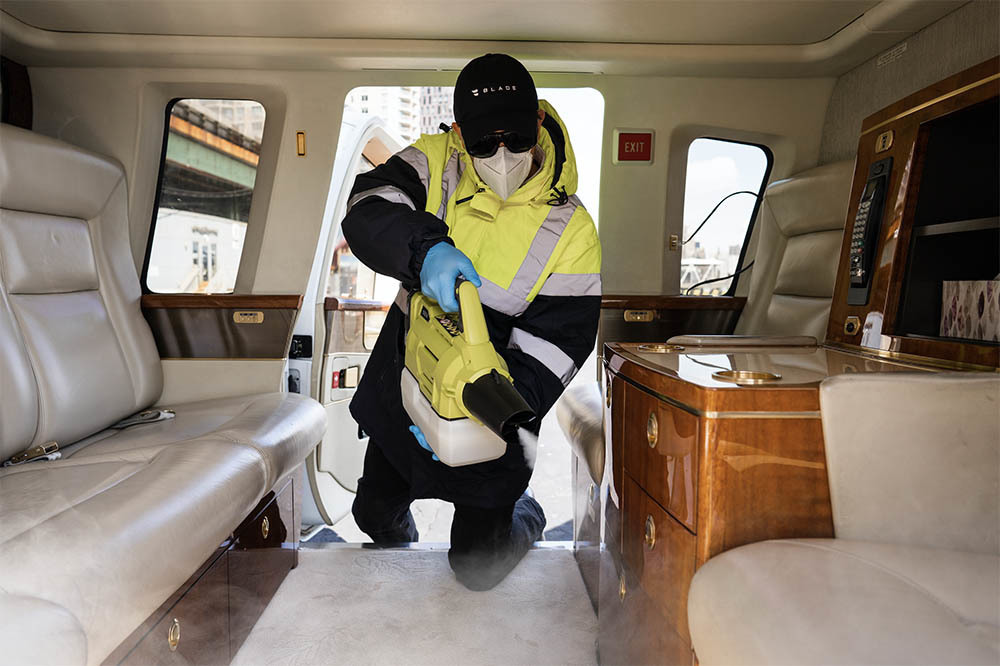 BLADE Health and Safety Protocol was designed by BLADE's MediMobilty team in conjunction with our Medical Advisor to protect our community from the further spread of COVID-19.
---
Operating Standards and Flight Safety
BLADE takes operating standards and flight safety extremely seriously. BLADE's Chief of Safety, Edward Schulze III, has over 35 years of experience in military, police, counter-terrorism, and corporate aviation.
Each of our operators are audited on a quarterly basis, vetted by BLADE and 3rd party rotorcraft industry experts, and are subject to a higher level of oversight by the FAA compared to operations in privately owned and operated helicopters.
BLADE security and background check procedures are unmatched in the industry. Additionally, passenger and baggage weights are collected and verified to ensure they fall within the specifications mandated by the equipment manufacturer, our operator, and the FAA. Passengers are arranged in specific seat locations in the aircraft based on considerations for center-of-gravity, passengers size, and comfort.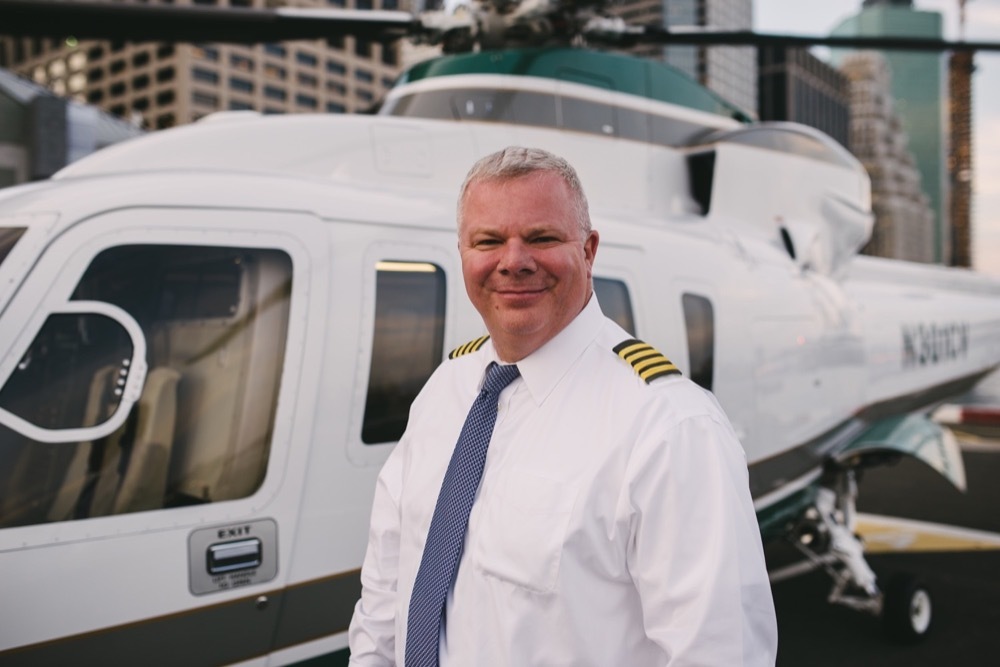 BLADE's Chief of Safety, Edward Schulze III



Use the link below or email [email protected] to contact a BLADE for Business consultant who will help you design a corporate travel program tailored to your company's needs.