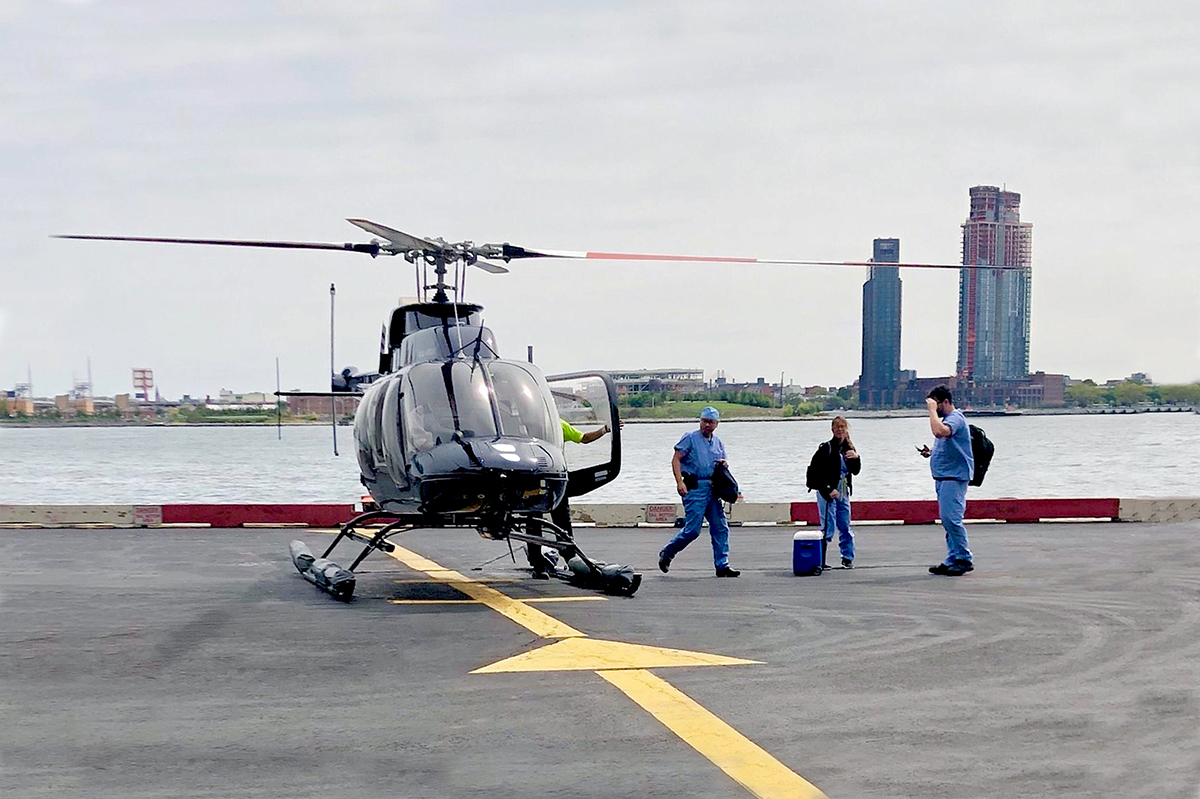 BLADE MediMobility: End-to-End Organ Transportation
---
Our BLADE MediMobility group partners with local hospitals to provide cost-effective, rapid movement of organs and transplant teams to improve patient outcomes. One of the most important initiatives is our partnership with NYU Langone Health, through which we arrange on-demand helicopter and jet missions for NYU transplant teams and donor organs.
BLADE leverages its captive infrastructure and 24/7 availability of dedicated aircraft to reduce travel times between NYU Langone and common donor hospitals by up to three hours.
Expeditious transportation is critical for organ transplantation; for every hour an organ is outside of the human body, surgical success rates decrease materially.
After retrieving an organ from the donor hospital, the NYU transport team takes a BLADE-arranged jet, followed by a helicopter to East 34th street in Manhattan, right next to the hospital, eliminating crosstown travel.
This partnership is also much more cost effective. Brigitte Sullivan, Executive Director, NYU Langone Transplant Institute, estimates the use of a commercial helicopter to be one-fourth of the cost of using a medevac helicopter.
As Dr. Nader Moazami, MD, Surgical Director for Heart Transplantation at NYU said in a recent press release, "Simply put, this partnership will improve outcomes for transplant patients in New York City."
If you're interested in partnering with BLADE MediMobility, please tell us more about your organization here.
BLADE MediMobility x Trinity Air Medical Acquisition Announcement
Following the acquisition of Trinity Air Medical, Inc., BLADE MediMobility will be the largest point-to-point organ transplant transport service in the United States. This brings incredible benefits of scale to the combined operation—more availability, better pricing, maximizing patient outcomes.



Essential Rotorcraft Operations - BLADE can provide aircraft from our large, NYC-based, dedicated pool of Bell 407 and Sikorsky S-76 helicopters 24/7, on as little as 20-minutes notice. BLADE operates four private terminals in New York City (at each heliport and the seaplane base) enabling personnel staging, secure storage of materials and real-time logistics for arriving and departing aircraft.


Essential Ground Connect - We have re-deployed our top Airport drivers in customized SUVs following special procedures for safety including: (i) added plexiglass divider between driver and passengers; (ii) temperature checks for all drivers prior to shift start; and (iii) electrostatic fogging and hand cleaning of each vehicle before trips. These vehicles are available on an hourly basis for any essential travel.


Crisis Jet Logistics - BLADE has dedicated jets based in NYC and deep experience operating in mission critical situations. Recently, we completed a repatriation flight from Morocco, moved medical supplies cross-country to the Northeast, and sent six jets to enable a Covid-19 clinical trial in the Midwest.


MediMobility - Given our experience coordinating jet, helicopter and ground transportation for Langone and Sinai organ movements, we are happy to offer our services to other transplant institutes. As we do with Langone, to the extent the organ does not need to be accompanied by medical staff, BLADE will send our own staff to retrieve and deliver organs to hospitals, when appropriate.

"I had such a great experience and a very quick recovery, so I'm blessed." – Gary Gregory, NYU Langone transplant patient
Have an Upcoming Medical Mission?
Reach out to our dedicated MediMobility team for more information regarding the program.