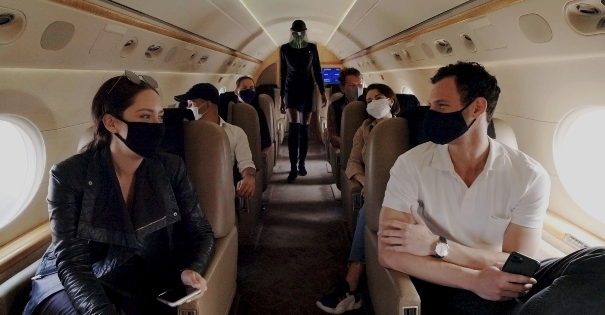 BLADEone Aspen is a seasonal scheduled jet service operating by-the-seat flights between Westchester and Aspen on select Wednesdays, Thursdays, Sundays, and Mondays, plus additional flights over the holidays.
Flight time between Westchester and Aspen is four hours.
BLADEone's Health and Safety Protocol, designed in conjunction with our Chief Medical Advisor, includes mandatory on-site pre-boarding COVID-19 testing or submission of a negative test result (produced by a test taken within 24 hours of your departure). We remain the first in the industry to require pre-boarding negative test results to qualify for flying. Click here to review.
---
What Makes BLADEone Aspen Unique?
BLADEone Aspen is the only way to fly directly between the New York area and Aspen as there are no direct commercial flights between the New York Area and Aspen. Outside chartering your own jet, BLADEone Aspen is the only way to fly direct. The days of flying commercial to Denver, then awaiting a connecting flight or driving four hours to Aspen, are now over. BLADEone Aspen saves up to six hours on your trip, meaning you'll go straight to the mountain and enjoy all that Aspen has to offer.
BLADEone Aspen is serviced by Gulfstream G400s, masterfully reconfigured to accommodate 14 fliers. With only 7 seats on each side of BLADEone Aspen, every seat is both an aisle and a window seat.
Passengers enjoy full in-air service by two BLADE SKYcx cabin attendants, preloaded tablets with first-run movies, in-flight dining from our restaurant partners, including caviar service from Pearl Street Caviar. Once boarded, all passengers receive Paravel Dopp kits filled with carefully selected next-generation personal care products.
As frequent Aspen fliers know, inclement weather can prevent Aspen landing, resulting in alternate arrival airports such as Eagle or Rifle. In the event of a diversion, complimentary ground transport is coordinated and arranged for all passengers.
Dogs are welcomed on BLADEone. Please refer to our Pet Policy for further details.
No detail is overlooked. No reasonable request is denied.
Private charters are also available 24/7/365 between any combination of New York, Los Angeles, Miami, or Aspen area private and commercial airports and heliports. Book your charter now.


🛫 FAQs
What is your cancellation policy?
How much baggage can I bring?
Should I consider chartering my own aircraft?
What's Included:
14 captain's chairs in a masterfully configured Gulfstream G400
In-flight service provided by renowned BLADE SKYcx
In-flight dining and caviar service
15-minute helicopter transfers between Manhattan and BLADE Lounge Westchester
Points of Departure and Arrival
BLADE Lounge West
BLADE Lounge Westchester
Aspen (Aspen Airport)