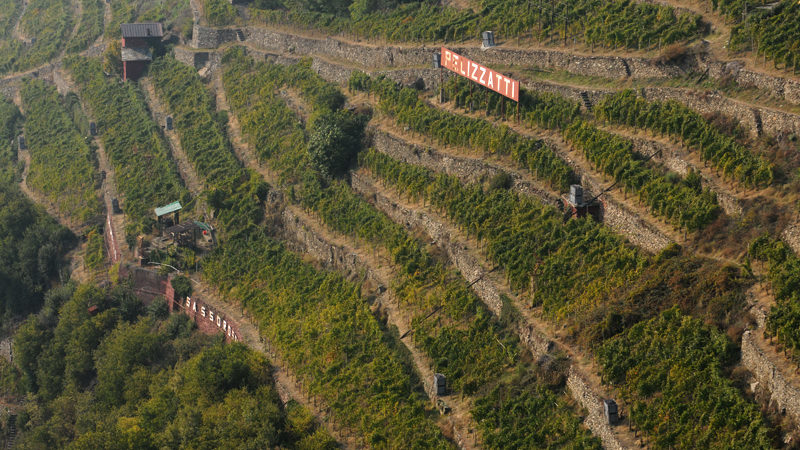 We chatted with Sara Maule, the Italian Fine Wine Specialist for Frederick Wildman and Sons, importer of Nino Negri wines, one of BLADE's partners. You can enjoy a range of Nino Negri's wines at all of our BLADE Lounges.
Where is Nino Negri located?
Nino Negri is located in the northernmost part of Italy, on the border with Switzerland.
In Lombardy, where Lake Como finishes, my valley, Valtellina, begins. It's a very particular valley because it is shaped east to west, and there are just two valleys in Italy shaped this way. The other valleys are shaped south to north, but if we were shaped this way, we would take the cold air from the north, and we wouldn't be able to grow our kind of grapes. We take the warm air from Lake Como, and this is why we can have these beautiful wines.
What was it like to grow up on a vineyard?
My father was the director and the winemaker of Nino Negri for 48 years, so you can say I was born in Botte, which is the Italian translation for cask. A lot of people ask me what it was like growing up in a vineyard, and you know, it's very funny for me to answer. It was wild, in a sense, but for me, it was normal. I was just born there. Sometimes I ask the opposite question, "How was growing up in the middle of the skyscrapers in New York?"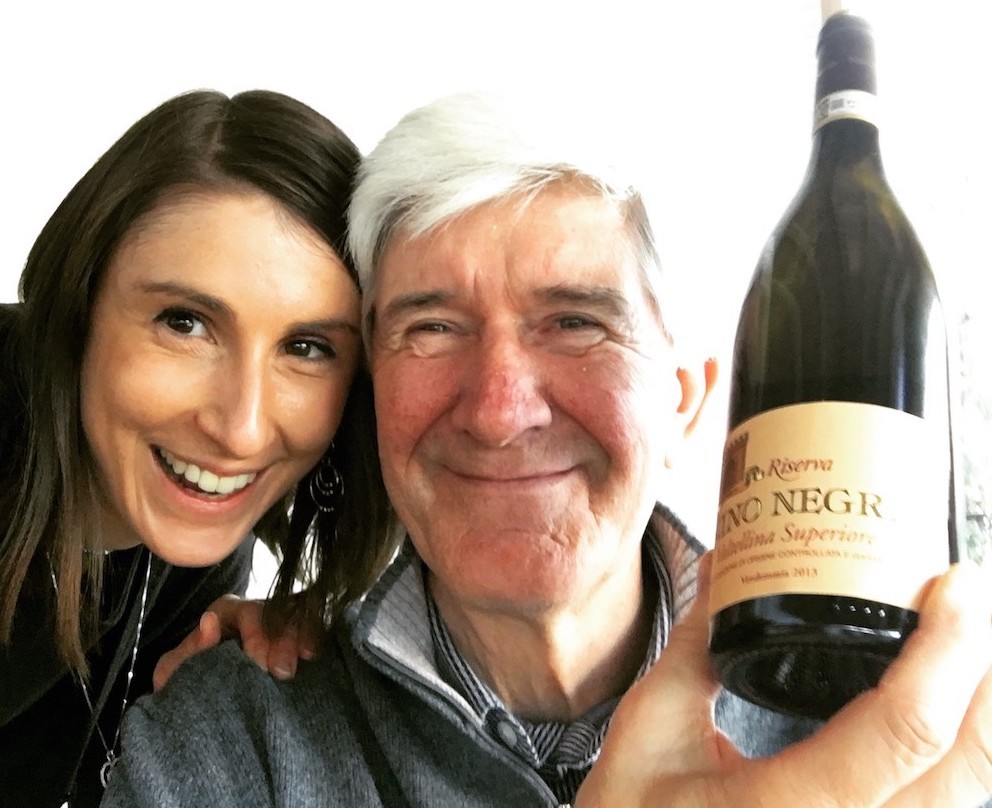 Tell us about Nino Negri. What sets you apart from other vineyards in the area?
The unique thing about the Valtellina Valley is that the vineyards are built on terraces on dry stone walls, and these walls were built in the Alps more than 1,000 years ago. The soil is unique, the panorama is unique.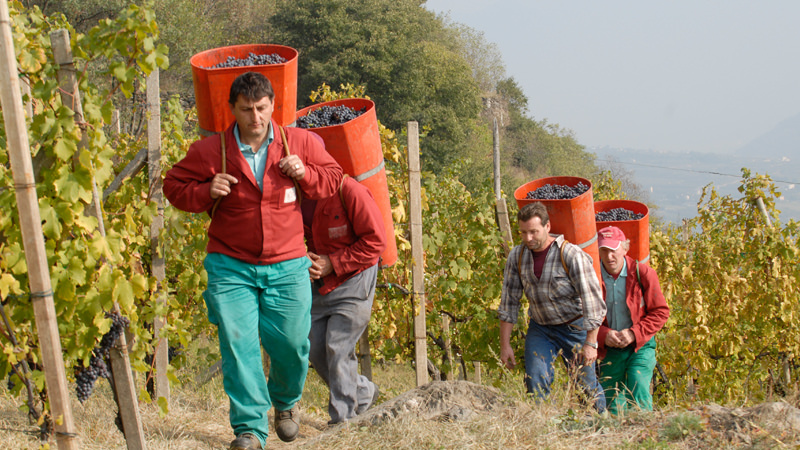 What's different about the grape varietal?
The king of the Valtellina is the Nebbiolo grape, and the majority of the wines that Nino Negri produces are made out of Nebbiolo. Nebbiolo is the same grape that gives us Barolo and Barbaresco from Piedmont, but in Valtellina, the wines are completely different. If you have the chance to taste one of our wines compared to a wine of Barolo or another Nebbiolo, you will definitely taste the difference.
Tell us about the region and how you're putting it on the map?
In the Alps, our soil is very steep. This means that we don't have much soil, but it's a very permeable soil. The vines need to go deep in the rocks to take the nutrients, and you can see that in the color. At home, when you have the chance to drink one of our wines, put a white surface underneath, and check the color—it's always transparent. While a Barolo is a deeper color than our wines, the tannins of our wines are silkier and in general, ready to be drunk sooner than Barolo.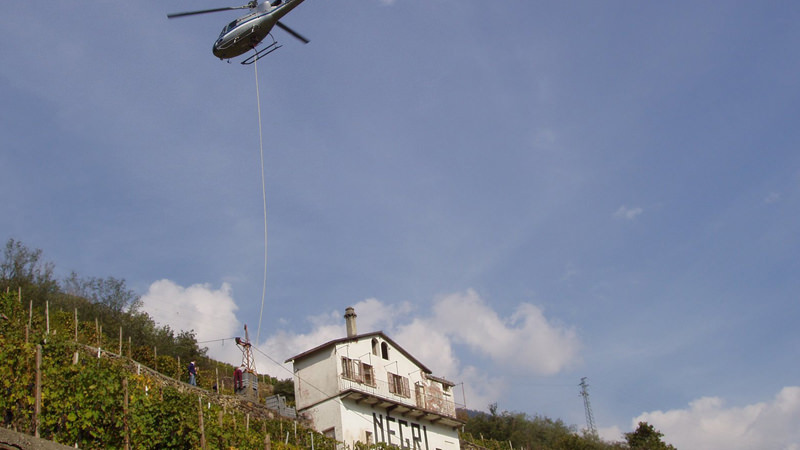 How does harvesting by helicopter work?
You need to understand that to harvest one hectare of a vineyard, it takes 220 hours. In Valtellina, to harvest the same amount of soil, it takes 1,000 hours.
It takes a lot of effort, and it's not really safe. The terraces are really steep and the people need to be dressed in a particular way, wearing a helmet and heavier shoes, so they don't get hurt–they can trip on one of the old steps or there could be a slide.
Because of this, about 17 years ago, my father started to rent a helicopter to do the harvest. They hand-pick the grapes in the same way, but they don't need to carry them to the first tractor. Instead, they put the grapes in big bins on the edge of the terraces, the helicopter comes, and with a cord, it takes the big bins near the winery.
A lot of people joke with us, saying 'Nino Negri is such a rich winery, they even have the money to rent a helicopter." But, understand, we call the helicopter two times. It works for 90 minutes, and in these 90 minutes, we save the work of seven people, working for seven hours for seven days.
Any recommendations for stay-at-home food and wine pairings?
Our white wine, the Ca'Brione, is a very curious white wine because it has a small percentage of Nebbiolo. I pair it with bracciole, a charcuterie that is very traditional of the Valtellina. The Ca'Brione has a nice body and minerality and high acidity, which is perfect for cleaning out the fatness of charcuterie. And by the way, this is one of those wines that I would drink every single day–I never get tired of this wine.
With our red wines, one pairing that I love is our Inferno with red wine risotto with sausage. The Cinque Stelle is our top wine, the fullest in body, the most complex. I don't like to pair it with very complex food because it's difficult to pair food with a very complex wine and to pair a wine with a very complex recipe. With the Cinque Stelle, I usually pair hard cheeses, like parmesan Reggiano that is aged 24 months or more, or pecorino. It's easy, and you focus your attention on the wine. You can even drink it instead of the dessert to finish the evening in the nicest way.
Another curious pairing that I suggest is with the Quadrio, which is 90 percent Nebbiolo and 10 percent merlot. Often, people pair red wine with meat, but in this case, the pairing that really surprised me was serving this wine with an octopus made with honey and orange zest. It was amazing.