Helicopter Between Nice and Monaco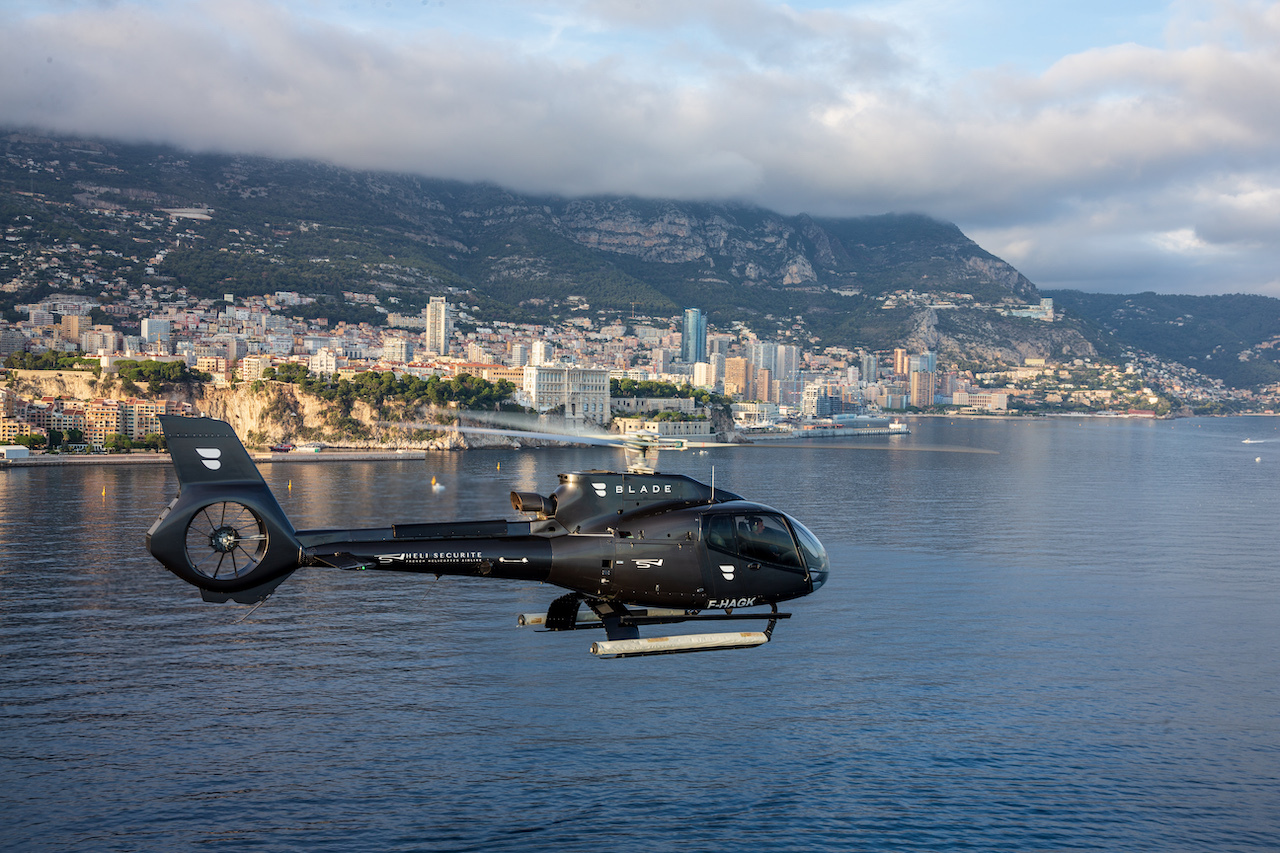 Fly By-The-Seat Between Monaco and Nice
Book by-the-seat helicopter charters between Nice Airport and Monaco starting at €195/seat.
Skip the traffic and fly between Nice Airport and Monaco in 7 minutes with BLADE, while enjoying the breath-taking views over the French Riviera. We also facilitate fast-track connections to and from the boarding gate of your commercial flight. Turns out the fastest route is also the scenic route.


Benefits of BLADE Helicopter between Nice and Monaco
Skip the traffic and get there in 7 Minutes
Traveling between Nice Airport and Monaco is unpredictable and can take more than an hour.
Fly with H130, the best model for your helicopter transfer from Nice to Monaco
A modern helicopter handpicked by BLADE to answer long-haul travelers' needs. Open-cabin design with 180° panoramic visibility, increased luggage capacity, air-conditioning, anti-noise and anti-vibration systems.
Seamless, door to door
Ground transportation is included between your helicopter and connecting flight. Add Ground Connect to/from your final destination.
Treat yourself to a unique experience
Enjoy breathtaking views of the French Riviera and arrive in style in the principality of Monaco.


Prepare your stay in Monaco
From the world-class hotels to the historic streets of Monaco-Ville, there's something here to enchant every traveler. Whether you're drawn to the high-stakes excitement of the casinos, the serene beauty of the French Riviera's beaches, or the rich history and culture of this unique microstate, Monaco promises an unforgettable experience. Discover here a summary of the best experiences Monaco has to offer.
Helicopter Charter Monaco to Nice
Nice Airports Serviced
NCE - Nice Airport- Rue Costes et Bellonte, 06206 Nice
Helicopter Charter Nice to Monaco
Monaco Airports Serviced
MCM - Monaco Heliport - 15 Avenue. des Ligures, 98000 Monaco
FAQs about BLADE's Helicopter Charter between Monaco and Nice Airport
What if my incoming flight is delayed?
How long is the helicopter transfer between Nice & Monaco?
How much does the helicopter between Nice & Monaco cost?
Nice Airport to Monaco - How does it work?
Monaco to Nice Airport - How does it work?
How much baggage can I bring?
Is there a ground connect to reach my final destination at Monaco?
What is your cancellation policy?
How close to departure can I book?
The Most Convenient Way to Get from Nice Airport to Monaco
Are you planning to explore the glamour and glamour of Monaco and wondering how to get there from Nice Airport? Look no further, as we have prepared a comprehensive guide on the most convenient ways to travel from Nice Airport to Monaco, ensuring you have a seamless journey and can focus on enjoying your time in this luxurious destination.
Key Takeaways
Taxi transfers from Nice Airport to Monaco offer a convenient, flat-rate journey with helpful tips and information.
Bus 80 and Express Bus 110 provide an economical journey from Nice Airport to Monaco every 30 minutes.
Train travel is an efficient option for commuting between the two locations, while private transfer services provide personalized service at higher costs.
Taxi Transfer from Nice Airport to Monaco
Traveling by taxi from Nice Airport to Monaco presents a speedy and picturesque option. With a flat rate of €95 and an estimated travel time of 30-45 minutes, you'll be soaking up the atmosphere of Monte Carlo in no time. The distance between Nice Airport and Monaco is around 31.7 km by road, ensuring a comfortable and efficient journey.
Once you land at Nice Côte d'Azur Airport, you have a few options for transportation:
*Taxis are available outside both terminals.
*You can pre-book a taxi from a licensed company.
*You can choose a private transfer service such as Welcome Pickups or AtoB.
These options provide a tailored experience at a comparable price.
Benefits of Taxi Transfer from Nice to Monaco
Opting for a taxi ride from Nice Airport to Monaco has several benefits compared to other travel methods. The convenience of being picked up directly from the airport and dropped off at your accommodation saves time and effort, especially for those with heavy luggage or tight schedules.
Moreover, taxi drivers are often knowledgeable about the area, providing helpful tips and information about your destination. Pre-booking services like Welcome Pickups even guarantee English-speaking drivers for a smooth communication experience.
Tips for a Smooth Taxi Experience
For a smooth taxi ride, you might want to consider confirming a fixed price for the taxi fare and pre-booking a licensed taxi from a trustworthy company before starting your trip. This way, you can avoid any unexpected costs or misunderstandings with the driver.
If you're pleased with the service, it's customary to tip the driver around €10 as a token of appreciation. By planning ahead and communicating clearly, you'll have a smooth and enjoyable taxi ride from Nice Airport to Monaco.
Bus Journey from Nice Airport to Monaco
For those mindful of cost, a bus journey from Nice Airport to Monaco is an option worth considering. Two main bus services are available: Bus 80 and Express Bus 110. The travel time for both options ranges from 35 to 45 minutes, making them relatively quick and efficient choices. Bus ticket prices range from €19 to €22, providing an economical alternative to taxi or private transfers.
Remember, buying a bus ticket doesn't secure a seat, hence you may have to stand if the bus is packed. However, with buses departing every 30 minutes from 6 am until 8 pm, you'll have plenty of opportunities to catch a less congested bus.
Bus Ticket Information
To add convenience, you can buy bus tickets at airport ticket windows, directly from the driver, or online. These tickets are valid for the day of travel, ensuring flexibility in case your plans change.
Bear in mind, during busy travel periods, buses might be more crowded; hence buying your ticket beforehand to secure a place might be a good idea.
Bus Stop Locations
Bus stops for both Bus 80 and Express Bus 110 are located at both Terminal 1 and Terminal 2 of Nice Airport, making them easily accessible regardless of your arrival terminal.
With buses running frequently throughout the day, you'll have no trouble finding a convenient time to catch a bus and begin your Monaco adventure at the Monaco Monte Carlo Station.
Train Travel from Nice Airport to Monaco
Train travel is another viable option for commuting from Nice Airport to Monaco. To reach the train station, you'll need to take a short bus ride to Nice St Augustin Station or Monaco Station, with a total travel time of around 40 minutes to 1 hour. The combined ticket cost for the bus and train is €7.40, making this a budget-friendly and efficient choice for reaching Monaco.
Trains from Nice to Monaco depart every 30 minutes from 5 am to 11 pm, offering plenty of options for travelers with varying schedules. While train travel requires a bit more planning and transfers compared to taxis or buses, it provides a comfortable and scenic journey along the French Riviera.
Train Ticket Pricing
A train ticket from Nice Airport to Monaco costs €5.90, and the bus fare to the train station stands at €1.50.
This combined cost of €7.40 offers a more budget-friendly alternative to taxis or private transfers for those looking to save money on their journey.
Train Schedule and Convenience
Trains, generally being less crowded than buses and providing a more comfortable ride, do necessitate extra transfers and planning for train routes. However, this also means less interaction with a bus driver, which some passengers may prefer, especially when compared to a bus route.
Here are some tips to ensure a smooth travel experience.
Check the train schedule and bus timetable to the station in advance.

Plan your transfers and connections accordingly.

Arrive at the station early to avoid any last-minute rush.
By following these tips, you can make your train journey more convenient and enjoyable.
Additionally, consider purchasing your train ticket beforehand to avoid any potential delays or complications at the station. You can easily purchase tickets online or through a mobile app for added convenience.
Private Transfer Services
Private transfer services such as Welcome Pickups and AtoB Transfer are a fantastic choice for those seeking a lavish and customized travel experience. These services provide door-to-door transportation from Nice Airport to Monaco at a set-rate fare, ensuring a stress-free and comfortable journey. With professional drivers and top-notch vehicles, you'll arrive in style and ready to explore the wonders of Monaco.
Private transfer services can be pre-booked online or over the phone, allowing you to secure your transportation well in advance of your trip. This not only provides peace of mind, but also allows you to focus on enjoying your time in the French Riviera without worrying about the logistics of travel.
Comparing Costs and Convenience
In terms of cost-effectiveness and convenience, private transfers might be a preferable choice for large parties or individuals with bulky luggage, given they provide a relaxed and cozy trip. While private transfers may be more expensive than buses or trains, the added convenience and personalized service can make the additional cost worthwhile for some travelers.
Ultimately, the choice between private transfers and other transportation options will depend on your individual needs and preferences.
Helicopter Transfer Option
If you're after ultimate luxury and speed, a helicopter transfer from Nice Airport to Monaco is worth considering. This exclusive option takes a mere 7 minutes and costs around €160 per person, providing a unique and unforgettable experience.
Helicopter transfers can be booked through various service providers online or by contacting Nice Airport directly. If you're looking to make a grand entrance in Monaco and enjoy unparalleled views of the French Riviera, a helicopter transfer may be the perfect choice.
Accommodation Recommendations
Considering the high cost of accommodation in Monaco, you might find it beneficial to consider less expensive options in nearby Nice or Menton. Both cities offer a range of lodging facilities, from budget hotels to luxurious resorts, located close to the city centre.
Additionally, don't forget to explore Airbnb and booking websites for potential deals and unique accommodations. By staying in a neighboring city, you can still enjoy the glamour of Monaco while keeping your accommodation costs in check.
Top Attractions in Monaco
Upon your arrival in Monaco, make it a point to explore some of the city's premier attractions. Some must-see destinations include:
The world-famous Monte Carlo Casino
Monaco Grand Prix
Monaco Harbor
Jardin Exotique
Immerse yourself in the rich culture, history, and natural beauty of Monaco and create memories that will last a lifetime. Don't miss the chance to visit the stunning Monaco Cathedral during your stay in Monaco Monte Carlo.
Travel Insurance Advice
Ahead of your journey from Nice Airport to Monaco, thorough research and comparison of various travel insurance options are necessary to secure adequate coverage for your trip. Companies like Heymondo and Safetywing offer comprehensive insurance plans designed to protect you in case of unforeseen circumstances.
By investing in travel insurance, you can enjoy peace of mind during your travels and focus on creating unforgettable memories in Monaco.
Bottom Line: Getting from Nice to Monaco
In conclusion, there are several convenient and efficient ways to travel from Nice Airport to Monaco, including taxis, buses, trains, private transfers, and even helicopter transfers. By considering your budget, preferences, and schedule, you can choose the best option to ensure a seamless journey to this luxurious destination. With our comprehensive guide, you're now well-equipped to plan your trip and embark on an unforgettable adventure in Monaco.
Frequently Asked Questions
How do I transfer from Nice airport to Monaco?
The most convenient transfer from Nice Airport to Monaco is by taxi or a pre-booked private transfer, as the train requires an additional transfer.
How much is taxi from Monaco to Nice airport?
A taxi ride from Monaco to Nice airport will cost €95, and can be booked by calling 00 377 93 15 01 01.
There are also alternative transportation options available.
How far is nice from Monaco?
Monaco is located just 12 miles (20 km) northeast of Nice, with quick and convenient transportation options available to get there in under an hour.
Can I purchase train tickets from Nice Airport to Monaco online?
Yes, you can purchase train tickets from Nice Airport to Monaco online, at ticket windows or directly from the driver.
You can purchase tickets online through the official SNCF website, at ticket windows located in the airport, or directly from the driver when boarding the train.
What are some affordable accommodation options near Monaco?
If you're looking for affordable accommodation options near Monaco, consider staying in nearby cities like Nice or Menton, or explore Airbnb and booking websites to find the best deals.